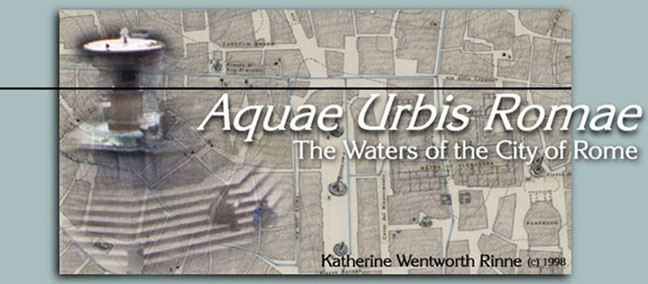 Aquae Urbis Romae is an interactive cartographic history of the relationships between hydrological and hydraulic systems and their impact on the urban development of Rome, Italy. Our study begins in 753 BC and will ultimately extend to the present day. We examine the intersections between natural systems--springs, rain, streams, marshes, and the Tiber River--and constructed systems including aqueducts, fountains, sewers, bridges, conduits, etc., that together create the water infrastructure of Rome.
This project aims to increase understanding of the profound relationships that exist between water systems, cultural practice, and the urban development of Rome, and by its example, in all cities, landscapes, and environments. I hope this study will foster work by other scholars and designers interested in exploring the ways in which water infrastructure can be exploited toward the future development of humane, ecologically responsible, and engaging civic environments; all are important factors as today we face both critical water shortages and rising sea levels due to climate change.
ENTER THE AQUAE URBIS ROMAE DATABASE


CAVEAT:
AQUAE URBIS ROMAE MAPS are not accessible at this time because ADOBE FLASH has been discontinued and nothing has replaced it. We are still searching for solutions (and funding) to resolve this problem.
In the meantime, our SEARCH engine will lead you to our deep and ever evolving data base.
Our JOURNAL section takes you to bibliographies, download articles published by Aquae Urbis Romae, and links to outside resources.


This project is funded in part by The John Simon Guggenheim Memorial Foundation, The Dibner Institute for the History of Science and Technology, The National Endowment for the Humanities, The Fulbright Commission, The Prince Charitable Trusts, The John Anson Kittredge Educational Trust, and the Graham Foundation for Advanced Studies in the Fine Arts. We have added GIS data to Aquae Urbis Romae and will add new features to the map and database on a regular basis. Funding for the GIS work was made possible with a 2005-2007 Collaborative Research Grant from the National Endowment for the Humanities.

Published by the Institute for Advanced Technology in the Humanities, University of Virginia. Project Director, Katherine Wentworth Rinne. Copyright 1998-2021.
LAST UPDATES TO DATABASE: 9 December 2021

As always, this is a work in progress and I welcome comments, suggestions, and advice.